Over the past several months, the stock market and commodities, like oil, gold, silver and food have all reached new highs.
Corn, wheat and soybeans hit 30-year price highs over the past month. Oil was over $100 a barrel. Silver matched its 1980 all-time high price and was dramatically outperforming gold, which was also setting new price records.
At one point last week, the silver exchange traded fund had gotten so far ahead of itself, that the iShares Silver Trust ETF (SLV) was "the most highly traded security on the planet" according to Tom Lydon at ETF Trends.
Over the past couple of months massive amounts of speculative money entered these markets. People were investing borrowed money "on margin" and that is one of the reasons prices in commodities shot up so sharply.
When markets get ahead of themselves, a correction is a natural, healthy and desirable occurrence.
In my opinion, this pull-back is just a much-needed correction and NOT a bear market.
Even silver, which was the highest-flying commodity over the past few weeks, is now trading at about the same price it was trading eight weeks ago. Sometimes investors have short memories.
One of the main reasons for the steep correction is that commodity exchanges around the world raised margin requirements four times in 10 days to discourage speculators investing with borrowed money on margin. This forced many leveraged investors out of the market.
HOW DOES ONE KNOW IF THIS IS JUST A CORRECTION?
None of the underlying fundamentals have changed! That suggests that this is most likely a normal, healthy pull back in the market. Consider the following:
The U.S. Dollar is temporarily up against the Euro. The dollar has dropped about 15% over the past 18 months; but the Euro is dropping, too. It dropped a historic 5-cents last week. The European Central Bank continues to print more Euros to bail out Greece, Ireland, and Portugal. More European countries may need bailouts before the end of the year. In the short-run a stronger dollar can be a negative for gold and other precious metals. But in the long-term, as the U.S. government and the Europeans continue to print more money and to devalue both currencies, precious metals and other commodities are likely to once again move higher.
The U.S. Dollar's long-term slide should continue. Most analysts believe the U.S. Dollar should continue to be devalued, because of massive current U.S. debt payments; the $600 billion in quantitative easing by the Federal Reserve this year; the purchase by the Federal Reserve of $300 billion in bad mortgages and the need to print an estimated $1.7 trillion in deficit spending this year by congress.
GDP Growth Declining. The Federal Reserve has downgraded U.S. GDP growth for this year.
Commodities still top performing asset class. Despite the recent selloff, commodities were still the year's top performing asset class as of the end of last week. The chart below shows that the year-to-date return for commodities has far outpaced the return for foreign exchange, bonds and emerging markets.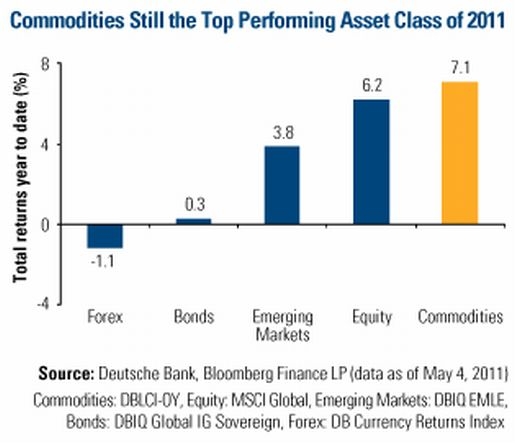 Commodities run up and should correct in very well defined cycles. See the chart below which shows that commodities run through regular cycles of short up-swings and then a correction. The important focus for investors is whether the overall trend is up or down. We still seem to be in a long-term uptrend.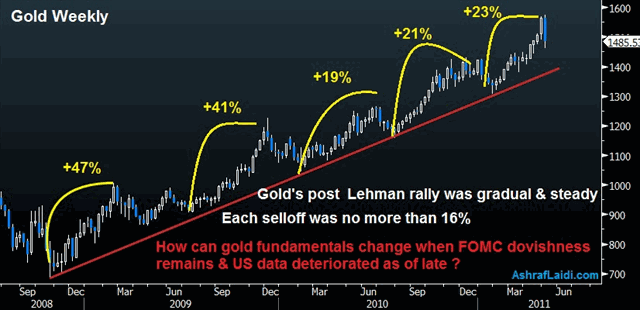 Source: www.ashraflaidi.com
Asian and emerging markets are still showing increases in demand for most commodities. Reserves for commodities are dwindling as suppliers are struggling to keep pace with growing demand.
The world is still a dangerous place. As we all know, there is probably some new disaster looming somewhere in the world that we don't know about and that we cannot control. For that reason alone, commodities can be an important investment. As the world and global markets become increasingly fragile and unpredictable, global investors may increase the demand for commodities in their portfolios.
SUMMARY
Essentially, what happened over the past 10 days has been more of a technical correction to bring the stock markets and commodities markets back into a more fundamental balance after driving out most of the speculators who were investing on margin.
Personally, I am quite happy that all the speculators have lost money. Speculation tends to distort markets and add "noise" to the job of serious investing.
At FOXHALL CAPITAL, we view investing in commodities, not as a speculative investment, but as a way to potentially hedge overall investment portfolios against the loss of purchasing power caused by inflation over time.
In fact, this week, FOXHALL increased our overall commodity exposure in our FOXHALL GLOBAL GROWTH STRATEGY from 10% to 16% of the total portfolio holdings in an attempt to better hedge against the loss of U.S. dollar purchasing power because we believe inflation is increasing and is likely to persist for quite some time.
We were very happy to be able to increase our commodity exposure during a pull-back in the market.
While it is impossible to predict the future, in a month or two, investors may very well look back and see this stock market and commodities pullback as a good buying opportunity.
—Paul Dietrich
dietrich@foxhallcapital.com

Disclosures: The opinions and portfolio information provided in the Foxhall Global Outlook are subject to change at any time, and are not to be construed as advice for any individual nor as an offer or solicitation of an offer for purchase or sale of any security. Client accounts may differ from model allocations due to many reasons. All investment strategies offer the potential for loss as well as gain. Individuals should consult with their financial professional to determine an investment strategy appropriate for their objectives, risk level, and time horizon prior to investing. Past performance is not a guarantee of future performance.
Foxhall Capital Management, Inc. is a registered investment adviser with the U.S. Securities and Ex-change Commission (SEC) under the Investment Advisers Act of 1940. The firm is defined as the Foxhall Capital Global ETF, 401(k) and Stock Series divisions, which manage a variety of ETF, 401(k) and Stock strategies in bundled fee and non-bundled fee ac-counts for primarily U.S. clients. The firm was redefined as of 12/1/08 due to the creation of the 401(k) Series division. A complete list and description of all firm composites and their com-pliant presentations are available upon request.
Foxhall Capital Management, Inc. claims compliance with the Global Investment Performance Standards (GIPS®). Foxhall Capital Management has been GIPS verified for the periods 12/31/99 – 12/31/08 by Beacon Verification Services. The ETF Series composites have received a performance examination for the period since inception through December 31, 2008. A copy of the verification report is available upon request.